Today's health care often times does not focus on the whole person nor is treatment tailored to the individual's needs or the underlying cause of their dis-ease.
Dr. Erin McFerson believes that all people deserve to receive health care that is balanced and sustainable allowing them to achieve their greatest health potential. Instead of chasing symptomatic relief Dr. McFerson provides evidence based, holistic chiropractic care that is lasting and unique to each patient's health goals throughout all stages of life. By listening to her patients and their bodies, Dr. McFerson specializes in providing care that is comprehensive and straightforward, using a blend of gentle chiropractic care, soft tissue therapies, and lifestyle coaching.
Her priority is to empower her patients with the tools and knowledge they need to create actionable steps to reach their health goals. By fulfilling her passion of serving others Dr. McFerson works diligently to build a stronger and healthier community one patient at a time.
New to Chiropractic? Be sure to watch this short video: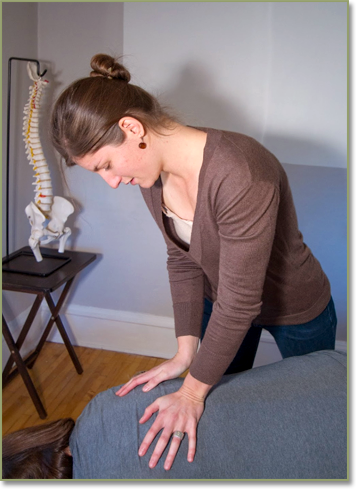 You can save time on your first visit by downloading and filling out our paperwork before coming in.
Please browse through our site to find out more about chiropractic and
the incredible ability of your body to heal and strive toward health and wellness.
Health-E-News July 2017 empowering you to optimal health Can Chiropractic Treatment Help Pregnancy? Pregnant women go through many changes during the time before baby arrives, from prenatal visits to diet changes. Visiting the doctor during [...]
Subscribe to our newsletter below:
You can
unsubscribe
if you no longer wish to receive the newsletters.